The demand for flexible, stretchable and embedded electronic technologies on textiles is growing rapidly in e-health, sport, protective clothing and other similar application areas. Danish Technological Institute (DTI) is working in the forefront of this development.
Printed electronics on textiles
At the core, printed electronics uses printing technologies such as screen, flexographic and inkjet printing, together with functional materials and inks to fabricate electronics directly onto plastic foils, paper or textiles.
Printed electronics is an advanced technology to implement circuitry and sensors in garments. The printing on textiles process is split into three steps – each of them well known, but in combination challenging when it comes to clothing.
Create a transfer foil with conductive traces, sensor elements and some printed passive components.
Pick and place mount silicon-based microchips and passive SMD components.
Heat press the transfer foil to a textile substrate, often stretchable.
Below is a video of the printer and tunnel dryer in action at Danish Technological Institute. Many layers can be printed on top of each other to achieve desired structures. Both different inks and several layers of the same ink can be printed.
Video of the heat press in action is shown below. A simple process that takes 10-60 s to heat press and then the removal of the transfer foil. Please notice that components in this situation is manually mounted on the textile after heat press transfer, but can be mounted before the transfer process as well.
Pro and cons compared to woven or embroidery fabrication
The printing approach have some advantages over other smart textiles technologies, where manufacturing cost and time consuming handwork often creates upscaling bottlenecks. Although washability and connectivity are still an issue, the printing electronics industry provides components and solutions for high volume production. Printed electronics currently finds its way into EMS (electro muscular stimulation) applications, incontinence products and heated garment.
Open Innovation Hub
To de-risk the adaptation of novel materials and technologies in printed electronics, Danish Technological Institute has established an open innovation hub with leading partners in Europe, including Holst Centre, CPI, Fraunhofer and other research and technology organizations and industries with comprehensive knowledge and capabilities in printed electronics.
Through this hub, companies can get access to state-of-the-art facilities for material and ink formulation development, printing lines, electronics integration and in-line quality control/testing technologies. On a commercial basis the hub partners provide consultancy services and can support a technology transfer activity. DTI coordinates this one-stop-shop entry.
The plan is to establish the open innovation hub as a separate activity with focus on promising applications like smart wearables, intelligent surfaces, structural monitoring, and other emerging areas. "We see great opportunities in the reshoring of electronics manufacturing back to Europe and being able to support the industry with key enabling technologies for the next-generation flexible systems" Zachary J. Davis, Team Manager at DTI explains.
Green Transition
There is a need to explore new options for electronics that are designed for reuse, repair, and high-quality recycling. This is part of the overall green transition and printed electronics as an additive manufacturing method can address many of these challenges.
Printed electronics is characterized by its versatility, scalability, and low material usage, thus making it an ideal candidate for a circular production of electronics in general. Recent developments in use of biobased materials and methods for low energy consumption in curing printed circuits further support the green transition.
"At DTI we have developed copper inks that can substitute silver and have demonstrated how carbon can be used as skin sensors. The textile integration of electronics is an exciting development, and we are very proud to be able to support sustainable progress in this space" Zachary J. Davis ends.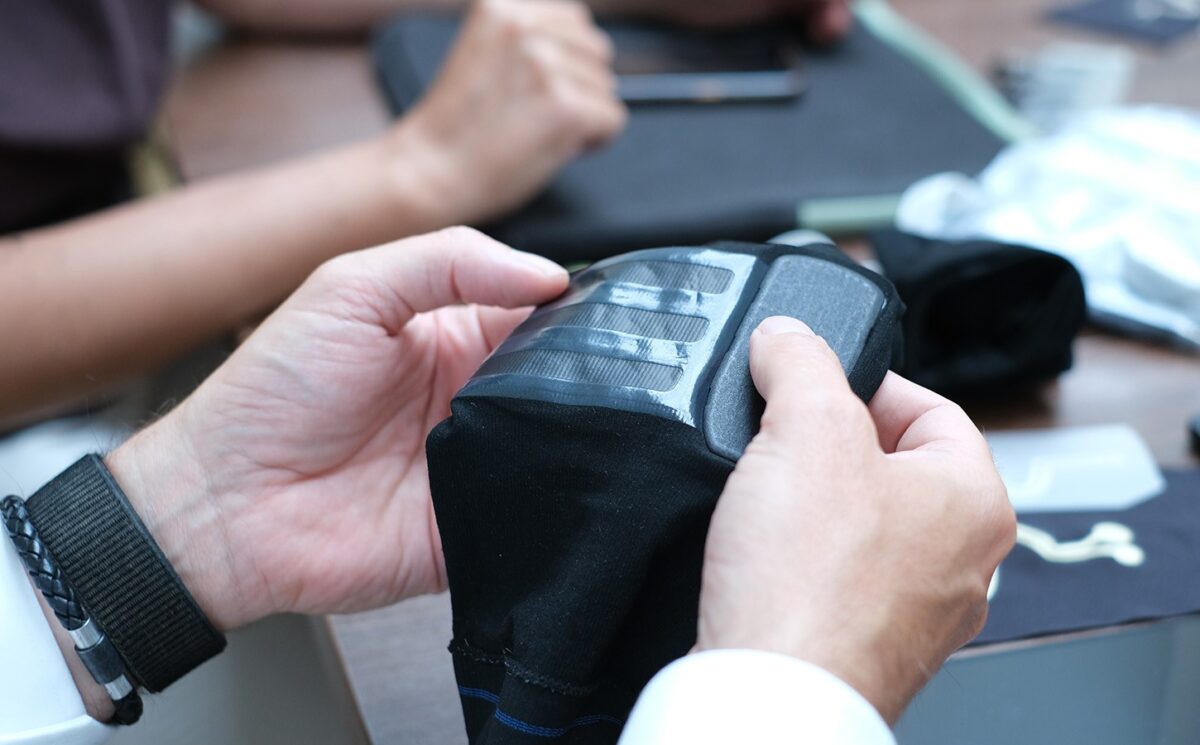 More Information
Danish Technological Institute (DTI) has five different locations in Denmark and one in Spain. The Headquarters in municipality Taastrup close to Copenhagen also facilitate the lab for Advanced Digital Printing of Electronics.
DTI is approved as a Research and Technology Organisation by the Danish Minister of Higher Education and Science.
DTI Employs 1,000 specialist in Agrotech, Building and Construction. Energy and Climate, Environmental Technology & Materials. Printed Electronics is part of Materials Division under the Centre for Nano Production and Micro Analysis with a team of 25 highly skilled people.
Activities within Printed Electronics includes nano materials development, inks formulation, pilot production of prints and incorporating electronics on composites, textiles, and curved surfaces.
Together with European partners, DTI has established an open innovation hub with access to services and infrastructure for development and upscaled production of lightweight embedded electronics
Your Contact
Zachary J. Davis, Team Manager, PhD, zjd@teknologisk.dk
Websites: Advanced Digital Printing of Electronics at DTI or European Open Innovation hub