Conductive Transfers is a leader in printing stretchable electronic technology that can be transferred on to textiles to create smart textile solutions. The printing technology can be used to easily transform a range of fabrics into a heater, sensor, or conductive circuits with other electrical capabilities, potentially many different innovations can now become commercially viable.
Conductive Transfers – Printed stretchable electronics for smart textiles
Conductive Transfers brings their expertise in textile printing to develop printing technologies that enable circuits to be seamlessly integrated with fabrics thus avoiding the need for wires and many of the electronic components in garments.
Their core solutions are:
ElastaTrode – printed circuits for smart textiles, includes the newly developed 3D dry electrode. – see below
ElastaTherm – printed heaters that can be integrated into textiles, with application possibilities within automotive, outdoor clothing and medical.
ElastaTronic – printed circuits textiles with the capability to add surface mounted silicone chips on the fabric
ElastaSens – printed textile sensors such as capacitive, touch, stretch and pressure sensors
ElastaLink – printed circuit for connecting across garment seams
Conductive Transfers (CT) developed these patented printing technologies specifically for textiles, so these solutions are stretchable, washable and durable, making it ideal for use in various textile and apparel applications. The CT process are the foundations for functional textiles, it enables the developer to break down previous barriers within wearable & smart technologies to create new products.
The circuits are printed on a transfer sheet by adding layers of conductive inks and insulating layers. Once the circuit layers are printed, a final adhesive layer is added on top. This sheet is transferred onto textiles using heat and pressure ensuring a strong bond to the fabric. Finally, the transfer sheet is peeled away so no plastic substrate is left on the fabric resulting in a soft, stretchable fabric circuit. As the material stretches so does the transfer. Standard crimp connectors, snaps, magnetic connectors, even some conductive tapes can be attached to these smart textiles to attach hardware to them if needed. CT are working in the background on their own connector for use by innovators.
Services
Conductive Transfers can support clients throughout their product development phases. They understand the challenges of developing smart textiles solutions and can work closely with their clients to build an idea into a prototype and proof of concept with printed circuits. Prototypes enable clients to do testing, redesigning, gather interest and get investments for product developments.
Once prototypes are refined and finalised, Conductive Transfers can go into large scale production as required by the clients. This is a cost effective and scalable technology that can quickly be integrated with textiles or garments using existing textile processes.
If companies are keen to conduct the production themselves, Conductive Transfers can license their patented technology and know-how to interested parties through a technology transfer. They will provide all materials, equipment and training for staff both in the UK and overseas to produce high quality printed circuits.
Case Study
Conductive Transfers has developed prototypes and products for customers in the medical, health, automotive and apparel industries.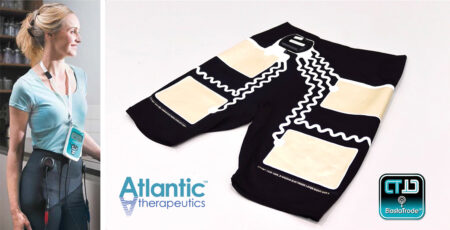 Latest has been their development and manufacturing of printed stretchable electrodes for Atlantic Therapeutic solution, INNOVO, a FDA, CE approved femtech smart textile product for treatment of Stress Urinary Incontinence (SUI).
As a result of the successful partnership between Atlantic Therapeutics and Conductive Transfers, Atlantic Therapeutics has now got an exclusive IP licence from Conductive Transfers for this application enabling them to expand their markets in UK and USA.
Why Conductive Transfers
The CT process is aimed at innovators and brands in all industries that want to create a functional textile which is cost effective and scalable. The method of translating ideas into smart textiles brings up many challenges, CT provides the missing link that helps create smart technologies via it's printed circuits for textiles.
Over the years there has only been a handful of ways of creating an e-textile, for example if created using conductive yarns, threads, embroidery or printed directly onto the surface of the textile and other substrates. But scalability issues, cost and time have played a large part in many fabulous ideas and concepts falling by the wayside, for far too long there has been a brick wall within e-textiles which brands have struggled to get over. The CT process allows these brands to break down this wall and take their concepts through from prototype to production cost effectively, efficiently and in a fraction of the time.
Paul Brook, CEO, further explained that "CT have laid down the foundations for e-textiles allowing the designers to use their imagination and freedom to create commercial products that help people both medically and with their well being. It certainly fills the CT team with pride knowing that our process helps to positively affect people's lives."
More Information
Based in Barnsley, United Kingdom
Experts in printed stretchable electronics for smart textiles and wearables using the CT patented conductive transfer process
Certifications include CT are ISO9001 accredited, some of our customers have achieved CE and FDA approval for their products that incorporate the Conductive Transfer process.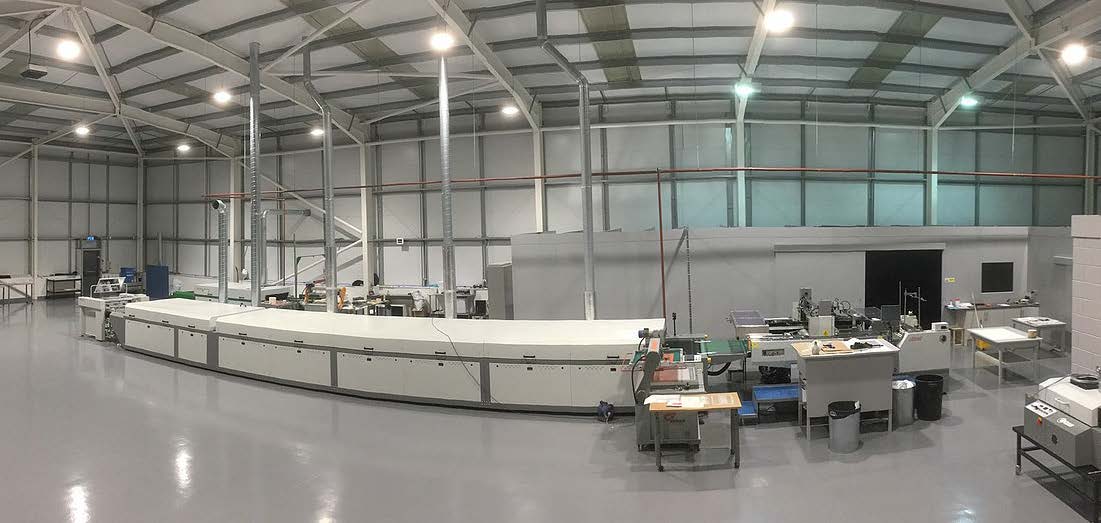 For more information:
Contact: Paul Brook, Director and Founder, paul@conductivetransfers.com
Website: https://www.conductivetransfers.com/