AMOHR is a German specialist in woven conductive tapes and sensor ribbons. The advantage of these tapes is that they can be designed specifically for the mounting of electronic components. Woven tapes can easily be scaled up and produced roll by roll in infinite lengths and configurations.
Wire your Electronics with Textile Ribbons
A wide range of different conductive wires can be used in weaving tapes or ribbons. Most suitable however are the so-called Litz wires that are individually insulated thin twisted copper conductors. The wires are highly conductive and they preserve the flexibility of the textile ribbon. Litz wires are also robust against washing and wear and tear.
AMOHR has an electronically controlled machine configuration that enables an almost unrestricted design layout of wires.
STA ambassador Fraunhofer has developed a technique to bond electronic modules to such tapes. Also, various solutions exist to attach connectors to terminate the conductive tape.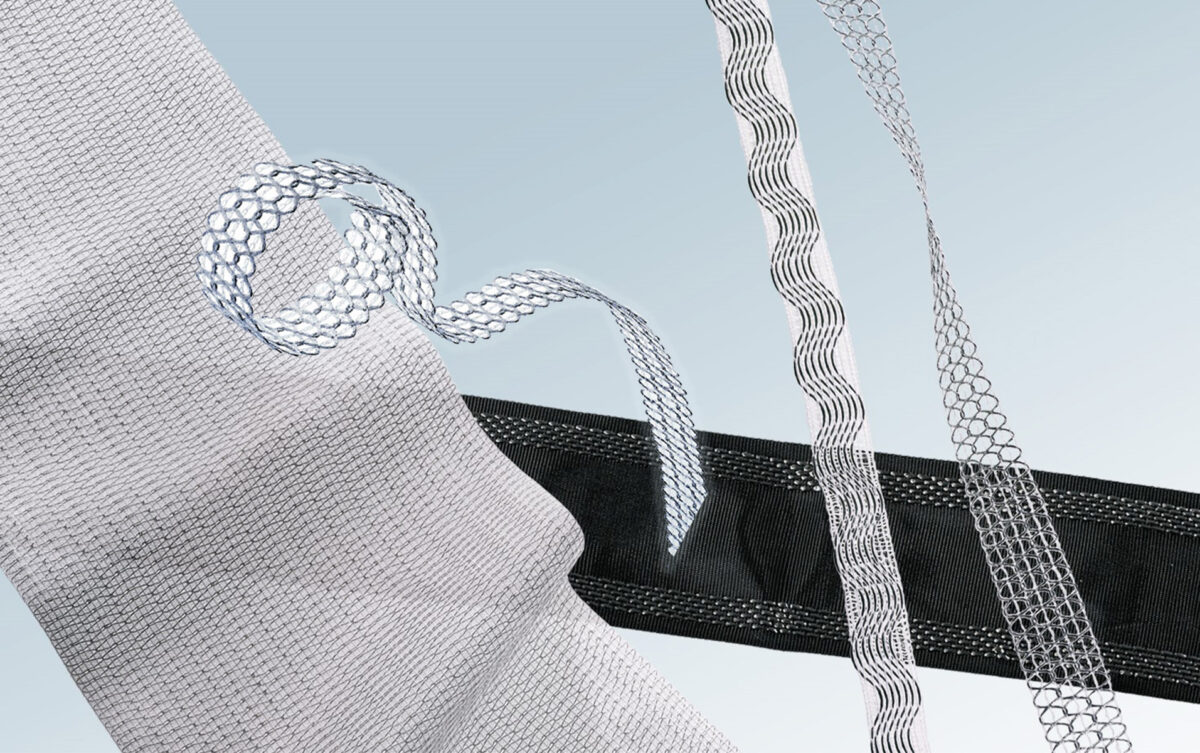 Attaching Electronics utilizing Wire Breakouts
One of the interesting features of narrow fabric machinery is that you can make breakouts which expose the conductive wires at the surface of the ribbon and thereby enable the mounting of electronic modules on top of the ribbon at defined positions. A woven ribbon with embedded electronics is ideal to be sewing into the seams of trousers or jackets. An alternative is to iron tapes by adding hot melt glue directly onto a fabric or pass an elastic version through a tunnel in a garment. This is specifically interesting for applications that are used to monitor posture and body movements.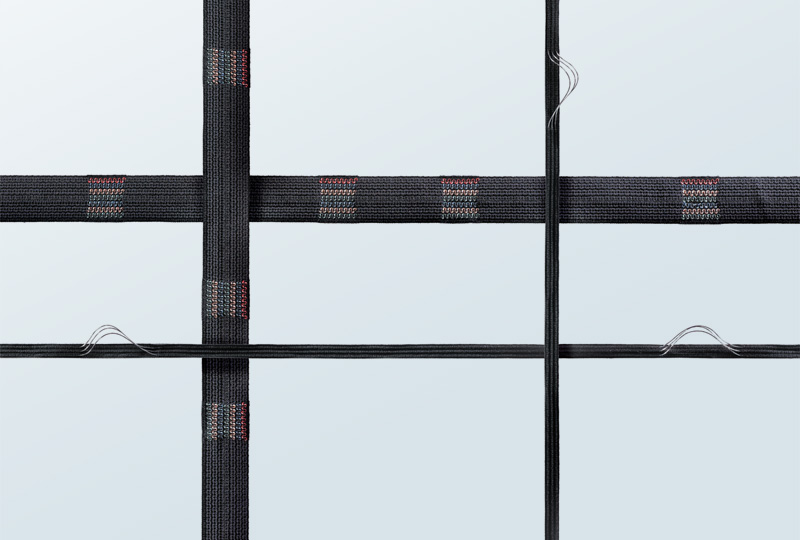 Contacting Wires can be Challenging
The advantage of using woven tapes versus printed electronics is that you can finalize all the electronics circuits before sewing the garment. However, contacting the thin wires in textile ribbons can require some labor intensive work or machinery made for this purpose. There is not yet a standardized industrial way to strip textile material and to make connections to the insulated wires in one single automatic process. AMOHR can guide you and connect you with partners who can build manufacturing tools for contacting ribbons in a high volume production
Use Case
TAIT Tower, an American based staging, scenic, and automation supplier, developed a compact, fixed, single-point winch featuring a conductive AMOHR ribbon that transmits power and LED control down the line to a connected fixture. The winch can be used individually or in arrays for dramatic moving light displays. To support a load of 4.5 kg and maximum speed of 3.0 m/s a flat woven textile ribbon was chosen to avoid cable lock in the drum, which happens when round rubber cables are rolled up and down at high speeds.
More about AMOHR Technische Textilien GmbH
AMOHR is based in Wuppertal, Germany, with a manufacturing site at Laa an der Thaya, Austria. AMOHR has a long record of working for a variety of worldwide customers and projects as well as many early-stage developments.
Specialist in elastic and non-elastic conductive tapes and textile sensors
Name of Product Brand: AMOTAPE®
The conductors normally run inside the tape but can be programmed to come up to the surface at points where connection is made to electronics modules or a connector.
The conductive tapes of various sizes can be delivered with integrated hot-melt adhesive making them easy to heat press or iron onto various substrates.
Textile based humidity, elongation or pressure sensors are normally customer designs made for the specific end-use application; however based on years of experience AMOHR can develop such products with low risk.
ISO 9001 and ISO 14001 Certificate
Since 1998, AMOHR has been ISO 9001 certified and since 2003 it has been ISO 14001 certified to document good practices in environmental management
Read more about AMOHR on the home page https://amohr.com/en/